The Carrollwood Winds looks forward to making its return to the Center in September 2022.
The Carrollwood Winds is a concert band comprised of local community members who are committed to performance. The band performs a wide range of literature at the high school and college level. Members of the band are not beginners or novices, rather members of the community with band experience who are looking for a venue to continue their craft. The Carrollwood Winds performs at the Carrollwood Cultural Center four to five times throughout the year and is branching out to other community and educational venues as well.
For more information, please contact Stephen Padgett at [email protected].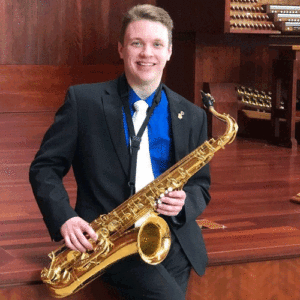 Stephen Padgett
Conductor, Carrollwood Winds
Stephen Padgett (he/they) is a multiple woodwind specialist with performance degrees from the University of Tampa and the University of South Florida. He has performed with the Florida Wind Band, the Imperial Symphony Orchestra (now Lakeland Symphony Orchestra), and more than 50 musical theatre productions on woodwinds in the flute, oboe, clarinet, bassoon, and saxophone families. With ensembles, he has appeared on the Today Show (NBC), at Tampa Bay Lightning and Rays games, and at the conferences of the American Bandmasters Association, Florida Music Educators Association, Florida Flute Association, and the College Band Directors National Association. He currently teaches applied saxophone and woodwind methods at the University of Tampa.
Carrollwood Cultural Center
Upcoming Rehearsals & Events