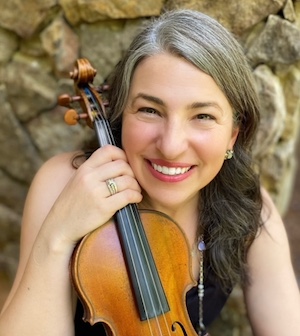 Former Florida Orchestra Concertmaster and audience favorite violinist Amy Schwartz Moretti, returns to the Carrollwood Cultural Center with pianist Franz Mantini with an eclectic program featuring music ranging from Mozart to William Grant Still.
Amy Schwartz Moretti, violin

Amy Schwartz Moretti (above) is the Director of the Robert McDuffie Center for Strings, Caroline Paul King Chair in Strings, and professor of violin in the Mercer University Townsend School of Music. She developed and curates the Fabian Concert Series on campus featuring internationally distinguished artists in chamber music concerts and master classes.
In addition to her performances as an orchestral soloist and concertmaster, she is an award-winning chamber music artist, appearing in concert series and at music festivals across North America, Europe, and Asia, and she is a member of the internationally acclaimed Ehnes Quartet.
Past positions include concertmaster of the Oregon Symphony and The Florida Orchestra. She has served as guest concertmaster for the symphony orchestras of Atlanta, Houston, and Pittsburgh; the New York Pops and Hawaii Pops; and the festival orchestras of Brevard, Colorado, and Grand Teton. Throughout her career, she has been an advocate of chamber music and instrumental in the development of intensive workshops for young musicians in Oregon, Florida, and Georgia. Her dedication to collaboration and performance complements her directorship and inspires her teaching and coaching of the Center's gifted young musicians.
She is recognized as a deeply expressive artist and known for her musical career of broad versatility. Recent performances include the premiere of award-winning composer Christopher Alan Schmitz's Violin Concerto and concerts as far away as Korea and Hawaii and as close as Georgia, Alabama, Florida, and South Carolina. Recent festival appearances include Bridgehampton, ChamberFest Cleveland, La Jolla, Meadowmount, Manchester, Vancouver, and Seattle. Recent projects include performances of the complete cycle of Beethoven String Quartets to commemorate the 250th anniversary of Beethoven's birth and the performance in Seoul, Korea, of the rarely heard Ludwig Spohr "Concerto for String Quartet, Op.131 in a minor" with the KBS Symphony Orchestra directed by Li Xinciao.
Franz Mantini, piano
Franz Mantini has maintained an active schedule of solo and chamber music performances in the Tampa Bay area and beyond for nearly thirty years. Mr. Mantini studied with renowned artist Jacques Abram at the University of South Florida where he appeared numerous times in solo recitals and as soloist with the USF Symphony Orchestra as winner of the annual Concerto Competition.
His local credits include a combined thirty solo and chamber performances at what is now the Straz Center for the Performing Arts. He has collaborated with many current and former principal members of the Florida Orchestra as well as members of the Houston Symphony and Formosa String Quartet and has appeared in concerts with the Lafayette String Quartet and as a concerto soloist with various community orchestras.
Mr. Mantini has been a regular at the Carrollwood Cultural Center since its inception, where he created the Strings in the Spring series, which has featured both local and international artists annually for over a decade. Guests have included former and current Florida Orchestra Concertmasters Amy Schwartz Moretti and Jeffrey Multer, TFO Principal Cellist James Connors, Internationally acclaimed violist Che Yen Chen and many more.
In addition to his musical endeavors, Mr. Mantini earned a bachelor's degree in Electrical Engineering and a master's degree in Engineering Management from the University of South Florida and has applied his training at various companies in the area. He resides in Tampa with his wife Julie and sons Gabriel and Gianni.
---
Admission: $15 member / $20 general admission
Group tickets for parties of 10+ (Promo Code: Group): $16
---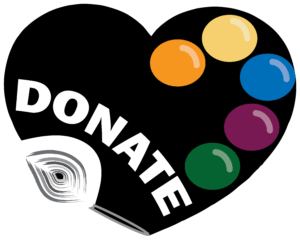 Remember to "Round It Up." Please consider donating when registering for classes or purchasing tickets. Your donation can be as simple as rounding your total to the nearest five or ten dollars — or whatever amount you wish to give. Thank you for your contribution!