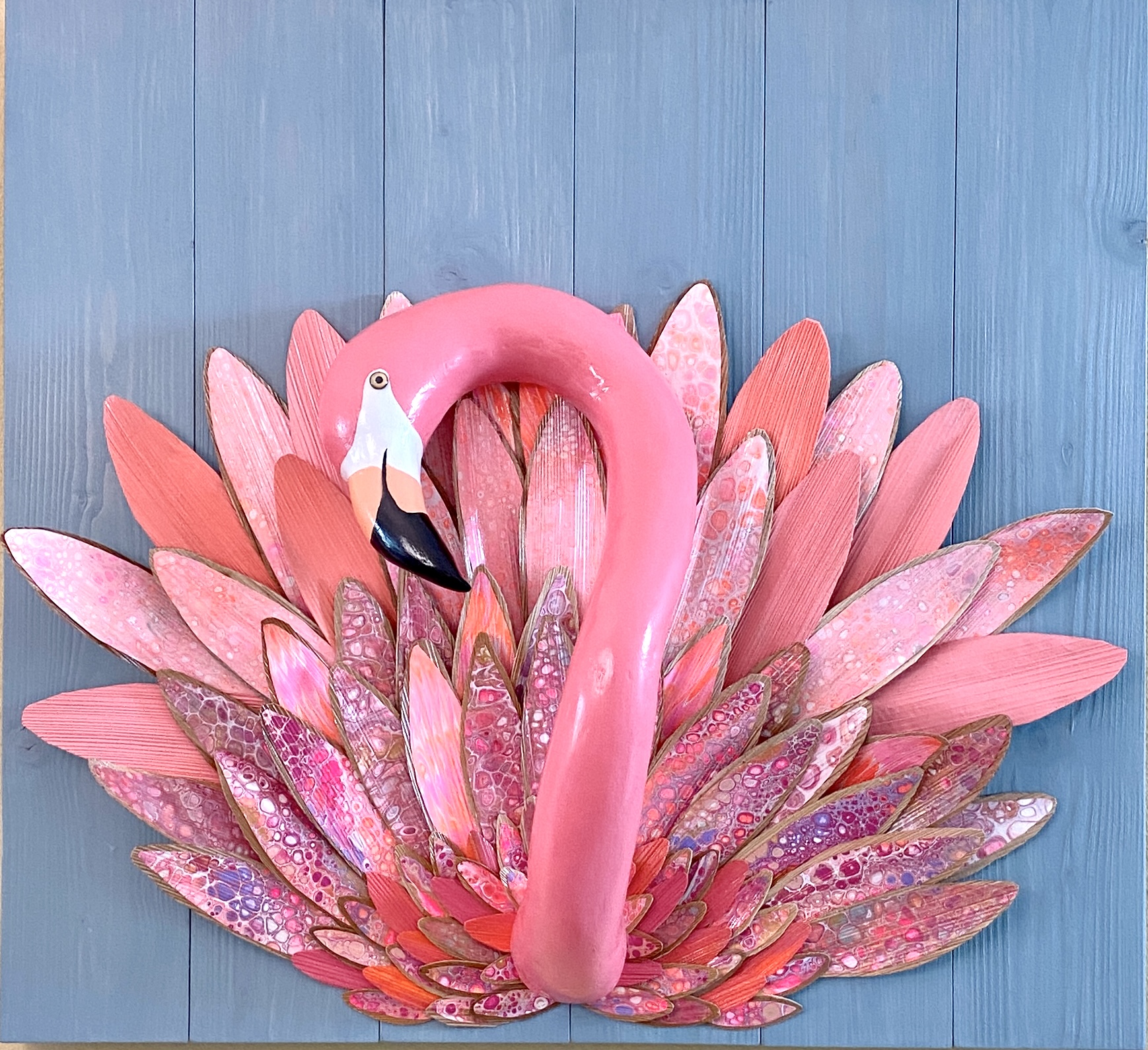 Peggy Roberts
"Uncommon thinkers reuse what common thinkers refuse."  – J.R.D. Tata
Whether an uncommon thinker or just a seeker of uncommon art materials, mixed-media artist Peggy Roberts challenges herself daily to transform Florida's very common cast-offs into colorful, whimsical creatures.
Peggy repurposes palm fronds and seed pods others throw away, metamorphosing them with jigsaw and acrylic paints – adding eyelashes, manes, and other features from additional palm tree parts.
Hailing from Bradenton, Florida – just a bit south of Tampa – Peggy is rarely frond-less. She continues to be influenced by the area's many varied palm trees. She is inspired by the opportunity to excite others with her repurposed artwork.
Artist Statement
In Florida, we step over them, swerve to avoid hitting them, and pile them at the curb for collection. But one day, I picked one up and studied it. And at that moment, I fell in love with palm fronds. Often, I see my next piece in a frond or seedpod. Just as often, I search my tangled stockpile for one I can transform.
My jigsaw takes my sketch from paper to frond; then I sand the edges until smooth. I mix acrylics with a paint additive to smooth them and slow drying time. For some pieces, I paint directly on the frond's surface. When working with curved or deeply grooved fronds, I paint on a flat surface and, once dry, affix the paint to the frond. This technique also allows me to add wrinkles and folds when needed.
Depending on the creature, I add eyelashes, manes, tusks, etc. – all made from palm tree parts – then seal the front and back.
I find joy in repurposing materials most people throw away. And I am thrilled when people tell me my whimsical creatures make them smile.
– Peggy Roberts, Frond Artist
---
Additional exhibits currently on display:
Main Gallery: Autumn Colors presented by The Gallery
Atrium Gallery: To be announced

Lobby Gallery: Far from the Tree by Peggy Roberts

Corridor Gallery: As We Are by Maritza Rodriguez

Artist Corner: Artwork by Emily Stehle