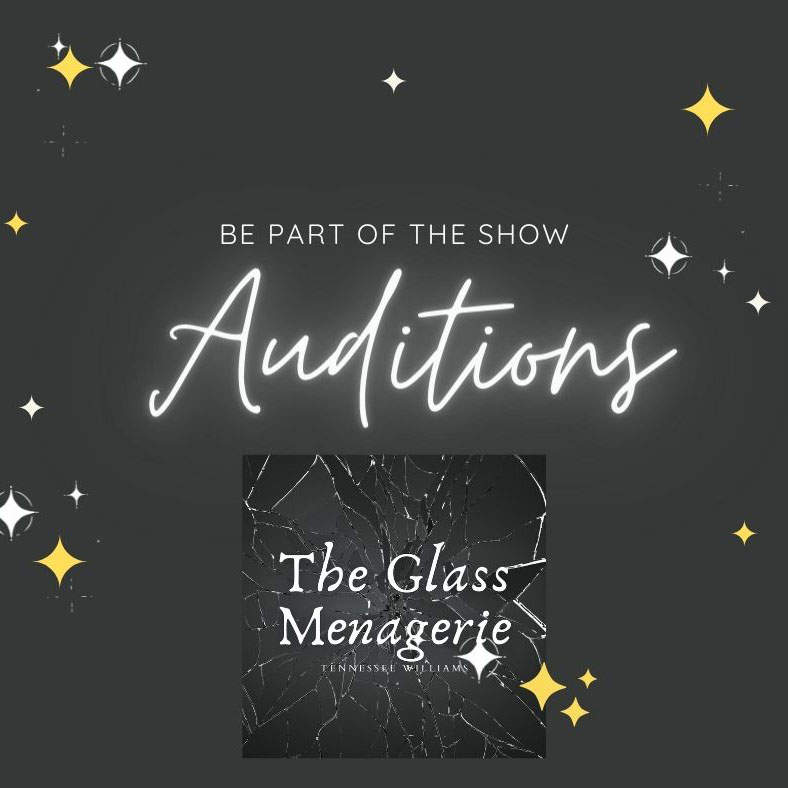 CLICK HERE for show and performance information.
Carrollwood Cultural Center and show director David J. Valdez are holding auditions for The Glass Menagerie by Tennessee Williams. Seeking emotionally versatile actors to portray these iconic characters in one of the most famous plays of modern theatre.
The Glass Menagerie is a "memory play" in which Tom recalls scenes from his youth during the height of the Great Depression. It shows his mother, Amanda, trying to maintain a lost gentility amid overwhelming poverty and cajoling her children into her idea of happiness.
Please prepare a 60-second monologue or story in the spirit of the show (think Tennessee Williams, Arthur Miller, Eugene O'Neil, Lorraine Hansberry, Edward Albee, or similar.) Those auditioning may be asked to stay for a cold read with other attendees.
IMPORTANT PRODUCTION DATES
Auditions: November 20 and 21, beginning at 6 pm.
Possible Callbacks: November 22, beginning at 7 pm
Rehearsals Begin: Monday, December 5, 2022
Tech Week: Begins February 12, 2023
Performance Dates: February 17, 18, 24, and 25 @8pm, February 19 and 26 @ 2pm
CASTING BREAKDOWN
Amanda Wingfield – Lead Female, mid-40s or older. Laura and Tom's mother. A proud, vivacious woman clinging fervently to memories of a vanished, genteel past. She is simultaneously admirable, charming, pitiable, and laughable.
Laura Wingfield – early to mid-20s. Laura has a bad leg, on which she has to wear a brace, and she walks with a limp. Painfully shy, she has largely withdrawn from the outside world and devotes herself to old records and her collection of glass figurines.
Tom Wingfield – early to mid-20s. An aspiring poet, Tom works at a shoe warehouse to support the family. He is frustrated by the numbing routine of his job and escapes from it through movies, literature, and alcohol.
Jim O'Conner – An old acquaintance of Tom and Laura. Jim was a popular athlete in high school and is now a shipping clerk at the shoe warehouse where Tom works. He is unwaveringly devoted to goals of professional achievement and ideals of personal success.
The Center is committed to equity, diversity, and inclusion. We encourage all performers of all abilities,  races and ethnicities, gender identities and sexualities, and ages to attend every audition. To indicate any need for special services, assistance, or appropriate modifications to participate in this audition fully, please email auditions@carrollwoodcenter.org.
For any further information, please contact auditions@carrollwoodcenter.org