Art That Creates Awareness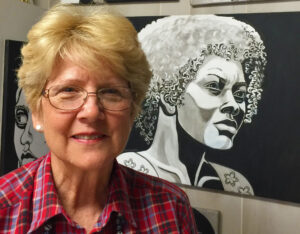 Carrollwood Village resident Jennifer Houdeshell is an accomplished artist and educator who uses her art to create awareness about human trafficking in the United States. Her exhibit, "Face of Human Trafficking," is now on display in the Gallery at Carrollwood Cultural Center through October. Twenty-three black, white, and grey paintings hang in the gallery, telling stories of betrayal, fear, hope, and survival.
A professional illustrator of children's books with Guardian Angel Publishing, Inc., Houdeshell has dedicated much of passion and personal work raising awareness about human trafficking.
"Once I learned about human trafficking, I was so alarmed and distressed that there was no question that I had to try to help raise awareness. I couldn't do otherwise. The question was, "how?"
Her campaign started years ago when she attended a symposium in Washington, D.C., presented by the American Federation of Teachers. From there, she worked with the students in her Central Florida high school to draw and paint about the topic as part of the school's art and social justice program. The result was an impressive outdoor art exhibit on campus, which helped encourage students to speak about the difficult subject to their peers, raising a great deal of awareness among the entire student body.
In time, the internet became more and more powerful, making the trafficking of domestic American kids and young adults easier. Houdeshell became involved with the Florida Abolitionists Organization in Orlando and co-founded a local non-profit organization, H.O.P.E, (Helpers of People Enslaved), which still continues to do fantastic work today.
"The first painting I did on the topic of sex trafficking came about simply because we were elaborately decorating our church's community center for our first fundraising event, and there was a space on the wall that needed filling," she recalls. "I usually paint in radiant, bright colors, but we were doing the event in black and white, so I quickly painted a girl with an uplifted face to go there in that space on the wall and called her 'Hope.'"
Houdeshell continued painting the portraits and created the "Faces of Human Trafficking" series, which tells the heartbreaking stories and honors the heroic spirits of the survivors she has met. The project helped her continue her crusade as she cared for her ailing husband.
In 2018, she moved to Carrollwood Village. She exhibited the collection at two human trafficking events presented by the vital Free Network organization of Tampa Bay (freenetwork.us) and is pleased to have the opportunity to inspire some activism with the exhibit at the Carrollwood Cultural Center.
"Like many artists down through the history of art, I feel it is the artist's responsibility to reflect through art what is happening in society and the world around us so that people may see more clearly and work for the good of all," she says.  
"With my paintings, I want to do my small part to help cause people to look more closely, to recognize the horror, inhumanity, and greed of a society that allows children, women, and men to be bought and sold like commodities…and to learn the facts and join in the fight."
(updated October 5, 2020)
Guided tours of the gallery are available. To schedule a tour, email
[email protected]
.