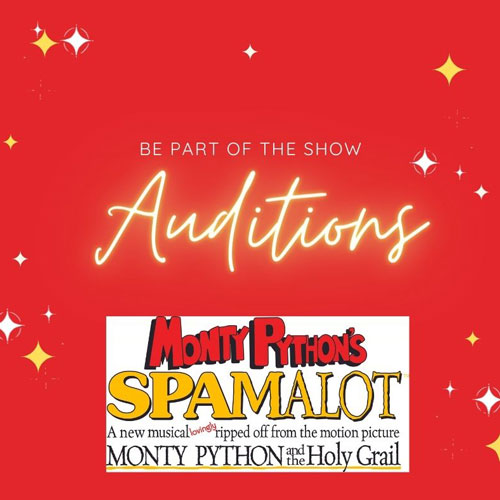 CLICK HERE for show and performance information.
---
The Carrollwood Cultural Center and show directors Culver Casson and Derek Baxter are auditioning for the hilarious Broadway sensation Monty Python's Spamalot, by Eric Idle and John Du Prez. Spamalot is lovingly ripped off from the classic film comedy Monty Python and the Holy Grail. This musical retells the legend of King Arthur and his Knights of the Round Table and features showgirls, cows, killer rabbits, and offensive caricatures of French people.
Monty Python's Spamalot
Book and Lyrics  by Eric Idle
Music by John Du Prez
Monty Python's SPAMALOT is presented through special arrangement with and all authorized performance materials are supplied by Theatrical Rights Worldwide 1180 Avenue of the Americas, Suite 640, New York, NY 10036 www.theatricalrights.com
Auditions: April 24 and 25 at 6 pm
Please prepare 16 – 32 bars of a comedy musical theatre song and be prepared to dance.If you tap, please be prepared to stay for an additional tap call after the dance call.
Video auditions will be accepted by those who cannot attend, but please try to make every effort to attend. In your video please slate your name, sing a small portion of a comedy musical theatre number, and record some simple dance moves such as a jazz square, grapevine, step-drags to the left and right, a pirouette, and any other impressive dance skills and tricks you may have. If you tap, please give us about 30 seconds of a tap routine to include time steps, wings, falling off the log,  and any other tap tricks and steps you may know. Please email your audition submissions to auditions@carrollwoodcenter.org.
Rehearsals: May 22 – July 13
Cue-to-Cue: July 16, full day required
Tech Week: July 17 – 20, evenings/nights required
Performances: July 21 – 30, Friday and Saturdays at 8 pm, Sundays at 2 pm
Character Breakdown
KING ARTHER (30+) The King of England, sets on a quest to form the Knights of the Roundtable and find the Holy Grail.
SIR ROBIN (25+) Ironically called "Sir Robin the Brave," though he couldn't be more cowardly and LOVES musical theatre.
SIR LANCELOT (30+) Fearless to a bloody fault but through a twist of fate, does discover his "softer side."
PATSY (30+) King Arthur's horse and servant. Tap is required
SIR GALAHAD (30+) Begins as Denis, a lower-class mud gatherer who becomes knighted and transforms into the dashing Sir Galahad. STRONG BARI-TENOR
THE LADY OF THE LAKE (20+) A Diva. The leading lady of the show. Must be a powerhouse vocalist able to sing in many styles and registers.
CHARACTER ROLES/ENSEMBLE playing various roles throughout the show including (to name a few) HISTORIAN, NOT DEAD FRED, MINSTREL, PRINCE HERBERT, and so so so much more. Looking for individuals with great comedic timing, great singers, and great dancers. Can possess all or just one of those skills and TAP IS A PLUS!
ALL genders will be considered for ALL roles, while this show is traditionally "able-bodied-white-male-heavy" we are looking to create a cast that resembles a broader cross-section of humanity.
---
The Center is committed to equity, diversity, and inclusion. We encourage persons of all abilities, races and ethnicities, gender identities and sexualities, and ages to apply for our opportunities. To indicate any need for special services, assistance, or appropriate modifications to participate, please email auditions@carrollwoodcenter.org.