Qi-Gong for Energy
&

Health (Virtual Class)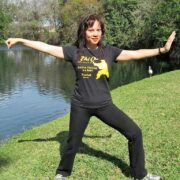 Qi-Gong (pronounced 'Chee-Gung') is an ancient Chinese system of coordinated physical postures, movement, breathing techniques, and meditation that is designed to promote health, spirituality, and physical fitness. The system traces its origin to Traditional Chinese Medicine, philosophy, and martial arts.
Qi-Gong is an energy art that can dramatically improve health, concentration, and well-being. It involves gentle repetitive exercise movements and breathing for improving Balance, Mood, Focus, Vitality, Inner Peace & Overall Health. It can be adapted for people of all ages and physical conditions.
Qi-Gong is typically easier to follow than Tai Chi. Tai Chi involves many sequential moves, whereas Qi-Gong involves various random exercises, as demonstrated by the instructor for easy following by the participants.
It is believed that overtime, Qi-Gong can harmonize, strengthen and have a healing effect on the functioning of all the internal organs. It increases the supply and flow of energy throughout the body, increase longevity and induce calm mental and emotional states.
(Non-refundable online processing fees apply.)