PLAN 9 FROM OUTER SPACE (Virtual Event)
When:
October 22, 2020 @ 8:00 pm – 9:15 pm
2020-10-22T20:00:00-04:00
2020-10-22T21:15:00-04:00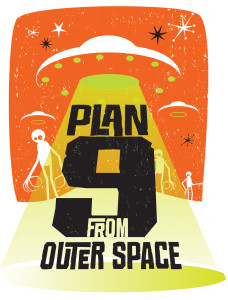 Plan 9 From Outer Space
By Mark Landon Smith
Adapted for the stage from the film Plan 9 From Outer Space, claimed by many to be "the worst movie ever made."
A MAS Theatre Encore Presentation from 2015
Directed by Keith Eisenstadt
Air Times:
October 22 • 8 pm
October 23 • 8 pm
October 24 • 8 pm
October 25 • 4 pm
This is it! The stage adaptation of Ed Wood's Plan 9 From Outer Space, considered by many to be the worst movie ever made! Packing B-Movie thrills into 65 hair-raising minutes, the story goes something like this: visiting space soldiers use a magic-electro-space-ray-gun to resurrect a recently deceased (and perfectly ghoulish) human couple, putting 'Plan 9' into action. The aliens must stop mankind from developing 'Solaramite,' a substance that could set off a chain reaction of cosmic explosions that would destroy the entire universe. With 'Plan 9' activated, the space aliens step up the action. Flying saucers invade! Hollywood reacts! The Pentagon responds! Even Colonel Sanders tries to stop the aliens and, well, this was absolutely the worst movie ever made.
This adaptation was first produced by Arts Live Theatre, October 25-28, 2012.
Presented by special arrangement with Stage Rights (www.stagerights.com)
---
Online Access: $10
Remember to "Round It Up" and make a donation to the Center's Operating Fund. Consider making a donation when registering for classes or purchasing tickets. Your donation can be as simple as rounding your total to the nearest five or ten dollars — or whatever amount you wish to give. Thank you for your contribution!
https://carrollwoodcenter.org/wp-content/uploads/2018/01/Carrollwood-Logo.png
0
0
Adrienne
https://carrollwoodcenter.org/wp-content/uploads/2018/01/Carrollwood-Logo.png
Adrienne
2020-09-24 12:32:05
2020-10-22 12:06:33
PLAN 9 FROM OUTER SPACE (Virtual Event)