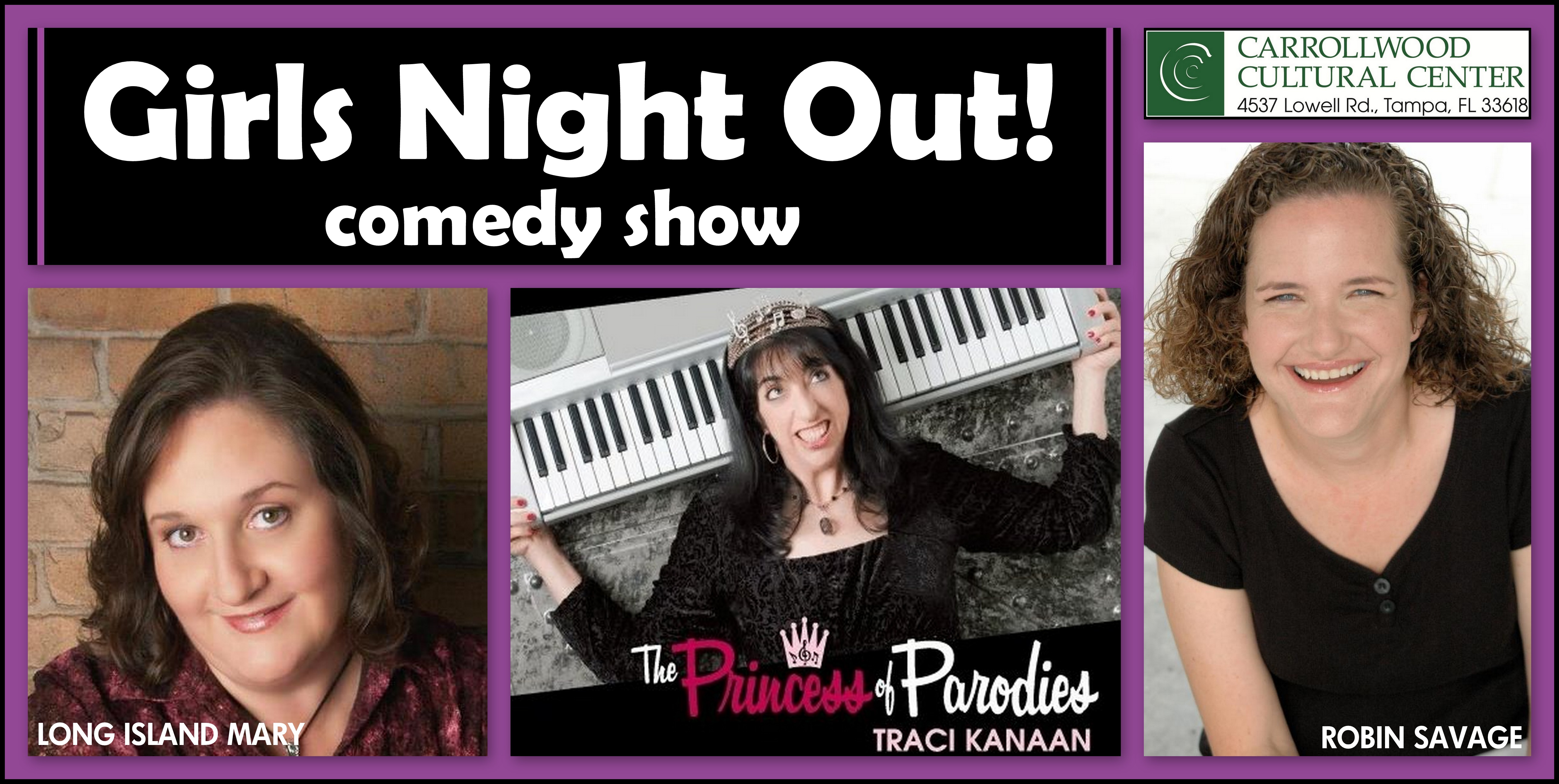 GIRLS NIGHT OUT (sold out)
When:
June 22, 2013 @ 12:00 am – 2:00 am
2013-06-22T00:00:00+00:00
2013-06-22T02:00:00+00:00
Where:
Carrollwood Cultural Center
4537 Lowell Road
Tampa, FL 33618
USA

Contact:
Carrollwood Cultural Center
(813) 269-1310
SOLD OUT!
GIRLS NIGHT OUT is an annual comedy show featuring a line-up of three hilarious women. Now in its third year, GIRLS NIGHT OUT will welcome  headliner Traci Kanaan, with feature comic Long Island Mary and emcee Robin Savage.
---
[singlepic id=486 w=320 h=240 float=left]Traci Kanaan
The self proclaimed love child of Liza Minelli and Klinger, Traci Kanaan grew up in Berea, Ohio, a quiet middle class community on Cleveland's west side. Her Italian mother loved opera, dance and theater. Her Lebanese father loved stock car racing, flea markets, and dirty jokes. Traci combined these influences to make a comedy yard sale…with music. You've seen it before…but not on display like this!
Traci started taking piano lessons at the age of 4. Never one to play it the way it was written, she constantly improvised during her piano lessons by making up funny lyrics or changing the endings, ultimately burning out 8 piano teachers before she graduated from high school.
Traci attended Otterbein College in Westerville, Ohio, and graduated with a B.A. in Music and Business, and with minors in Music Composition, Electronic Music, and Piano Performance. For her senior recital, she composed all original music, performed by other students. Each piece reflected her sense of humor, including bras being pulled out of saxophones, compositions performed on children's toys, and the staged death of a performer…assassinated by a ping pong ball gun.
In 2002 and 2003, Traci performed in Tony and Tina's Wedding as the 8 months pregnant maid of honor, Connie Mocogni. She had so much fun, she continued performing stand up comedy and improv with some of the comics she met in the show.
Traci continues her irreverence by creatively combining stand up comedy with her piano and vocal performances. She covers numerous topics, including her life and family, pop culture, and current events. Her performances include a wide spectrum of musical styles including classical music, oldies, rock 'n roll, country and rap.
Whatever the occasion, Traci Kanaan combines her love of laughter and music as The Princess of Parodies. She is a real crowd pleaser, and an unforgettable, hilariously funny novelty comedy act! (More info: http://www.tracikanaan.com/index.asp)
---
[singlepic id=484 w=320 h=240 float=left]Long Island Mary
Mary looks innocent enough. She might even remind you of someone you know, like your cousin or that gal from work, if that gal has an incredibly twisted view of life. Mary grew up in New York, in a big Catholic family. Life was full of good things: food, movies and music, all served with a side of guilt.
When Mary performs at your venue, the audience is going to be very pleasantly surprised. They will meet a likeable, easily relatable, warm character on your stage. There is going to be laughter, it's guaranteed.
Material includes (but not limited to): Tales of growing up in New York, adjusting to a life-changing move to Florida and care-giving. Mary is excellent at bantering with the crowd and has extensive hosting experience. The material range is Family Clean through Adult, depending upon your requirements.
One of the fastest rising comedians in Florida, Mary can be seen performing anywhere, be it a comedy club, festival, charity fundraiser or even a city park in the middle of the workday. (More info: http://longislandmary.com/)
---
[singlepic id=485 w=320 h=240 float=left]Robin Savage
From an early age, Robin always knew she wanted to be a public spectacle.
In high school she joined the Forensic  and Debate Society, winning the coveted "I tried" award five years in a row.  While in college Robin made friends with a bunch of misfits, ruffians and hooligans whose antics eventually got them kicked out of their fraternity…no, wait, that was the movie Animal House.
Robin took several years off to pursue her love of gluttony and sloth before finding her way to the comedy stage where her irreverent stand-up routine had audiences talking.
"Huh?"
"I don't get it."
"Is this supposed to be funny?"
Robin has performed in comedy clubs, casinos and seedy bars across the United States.  Comedy club credits include McCurdy's Comedy Theatre, Tampa Improv, Stanford and Sons, Snappers Grill and Comedy Club, The Comedy Zone,  SideSplitters, Crackers Comedy House, Laffs Comedy Caffe,  Florida Jokers, Bonkerz Comedy Clubs, Jackie Knight's Comedy Club, Coconuts Comedy Clubs and Giggles Comedy Clubs. (More info: http://www.kwirkybird.com/home)
---
SOLD OUT!
https://carrollwoodcenter.org/wp-content/uploads/2013/02/Girls-Night-Out-2013.jpg
2592
5152
Adrienne
https://carrollwoodcenter.org/wp-content/uploads/2018/01/Carrollwood-Logo.png
Adrienne
2013-02-05 16:57:52
2013-06-20 09:58:32
GIRLS NIGHT OUT (sold out)