AUDITIONS: Singin' in the Rain
When:
April 9, 2019 @ 6:30 pm – 9:00 pm
2019-04-09T18:30:00-04:00
2019-04-09T21:00:00-04:00
Where:
Carrollwood Cultural Center
4537 Lowell Rd
Tampa, FL 33618
USA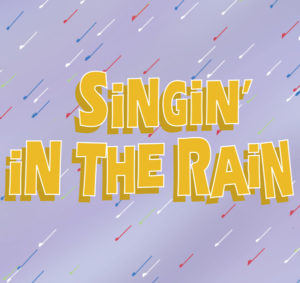 | | |
| --- | --- |
| SCREENPLAY BY | SONGS BY |
| Betty Comden | Nacio Herb Brown |
| Adolph Green | Arthur Freed |

Based on the the classic Metro-Goldwyn-Mayer film, by special arrangement with Warner Bros. Theatre Ventures, Inc.

Music published by EMI, all rights administered by Sony/ATV Music Publishing LLC
(Original Movie Choreography by Gene Kelly & Stanley Donen)
Produced by arrangement with Maurice Rosenfield, Lois F. Rosenfield & Cindy Pritzker, Inc.
---
Performed by MAS Community Theatre
Directed by Aaron Washington
Musical Direction by Mary Jo Hahn (vocal) & Reed Stricsek (instrumental)
AUDITIONS
Tuesday, April 9 / 6:30-9 p.m.
Wednesday, April 10 / 6:30-9 p.m.
Thursday, April 11 / 6:30-9 p.m.
Callbacks, if needed, will also be on Thursday, April 11 / 6:30-9 p.m.
Auditions are open, no appointment needed. Please bring a vocal selection from a musical or movie of your choice. If using sheet music, please make sure it is in the correct key. Singing to a background track is acceptable; however, a capella is not. Bring or wear clothing suitable for dancing and be prepared to participate in a dance combination as most roles will require dancing. The auditions will consist of cold readings from the script. Please bring a resume and head shot to auditions. Newcomers are welcome and encouraged.
The artistic team is planning movie magic and looking for the talent to make this happen. We will cast a group of 20 to 24 performers to join us for a wonderful summer of acting, singing and dancing accompanied by a talented live orchestra.
All roles are open and volunteer based.
PERFORMANCES
Friday, July 19 / 8 p.m.
Saturday, July 20 / 8 p.m.
Sunday, July 21 / 2 p.m.
Friday, July 26 / 8 p.m.
Saturday, July 27 / 8 p.m.
Sunday, July 28 / 2 p.m.
CASTING
Zelda Zanders: A flapper socialite and actress on her ninth marriage, she is Lina's friend and informant. / Gender: Female / Age: 30 to 40
R.F. Simpson: A successful, magnanimous, film producer. He leads the other characters in creating a new movie musical. / Gender: Male / Age: 50 to 65 (non-dancer)
Roscoe Dexter: A famous film director with theatrical mannerisms and tendencies. Frequently frazzled and works with Lina and Don. / Gender: Male / Age: 30 to 50
Cosmo Brown: A wacky and playful on-set pianist for silent films. Don's best friend and former dance partner. / Gender: Male / Age: 25 to 45 / Vocal range top: Ab4 / Vocal range bottom: C3
Lina Lamont: A slow-witted silent film diva with a big personality and a harshly unpleasant voice. She is Don's regular co-star. / Gender: Female / Age: 30 to 35 / Vocal range top: Eb5 / Vocal range bottom: C4
Don Lockwood: A suave Hollywood actor and dancer. Cosmo's best friend and Lina's regular co-star. Gender: Male / Age: 35 to 45 / Vocal range top: Ab4 / Vocal range bottom: G2
Rod: An excitable film agent bordering on manic. He works for Simpson. / Gender: Male / Age: 35 to 45
Kathy Selden: An earnest, talented actress with whit and charm. She falls in love with Don and performs as Lina's speaking and singing voice. / Gender: Female / Age: 25 to 30 / Vocal range top: F5 / Vocal range bottom: G3
Production Singer: The lead tenor in Monumental Pictures' first movie musical. / Gender: Male / Age: 25 to 40 / Vocal range top: Ab4 / Vocal range bottom: Db3
Miss Dinsmore: Lina's vocal coach. She is the "mother hen" type with caring affection for the younger performers. / Gender: Female / Age: 45 to 55 (non-dancer)
Young Don & Young Cosmo: Gender: Male / Age: 11-15
Ensemble: Movie Stars, Film Crew, Actors
Singin' in the Rain is presented through special arrangement with Music Theatre International (MTI). All authorized performance materials are also supplied by MTI. www.MTIShows.com
https://carrollwoodcenter.org/wp-content/uploads/2018/01/Carrollwood-Logo.png
0
0
Rob
https://carrollwoodcenter.org/wp-content/uploads/2018/01/Carrollwood-Logo.png
Rob
2018-07-31 12:33:09
2019-02-11 10:27:37
AUDITIONS: Singin' in the Rain