When:
January 9, 2017 @ 6:00 pm – 8:00 pm
2017-01-09T18:00:00-05:00
2017-01-09T20:00:00-05:00
Where:
Carrollwood Cultural Center (Meeting Room II)
4537 Lowell Rd
Tampa, FL 33618
USA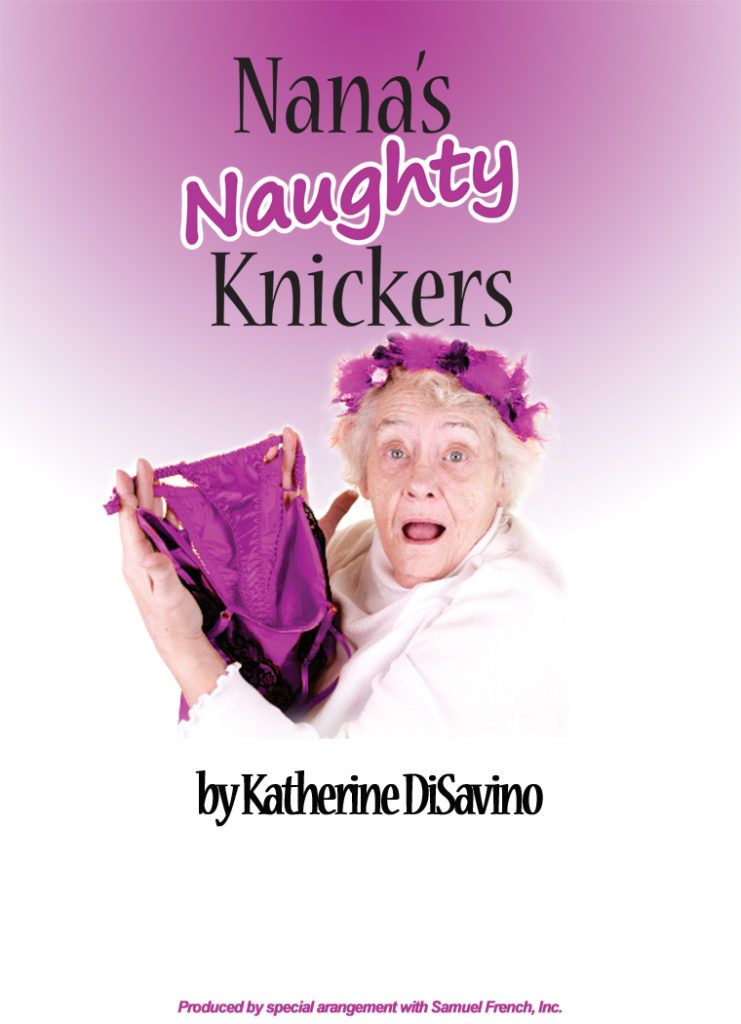 Nana's Naughty Knickers
Written by Katherine DiSavino
Presented by MAS  Theatre
Directed by Tim Guerrieri
Audition Dates:
Monday, January 9 • 6-8 pm
Tuesday, January 10 • 6-8 pm
Performance Dates:
Friday, March 17 • 8 pm
Saturday, March 18 • 8 pm
Sunday, March 19 • 2 pm
Friday, March 24 • 8 pm
Saturday, March 25 • 8 pm
Sunday, March 26 • 2 pm
Show Overview
Bridget and her Grandmother are about to become roommates. However, what Bridget saw as a unique opportunity to stay with her favorite Nana in New York for the summer quickly turns into an experience she'll never forget. It seems her sweet Grandma is running an illegal boutique from her apartment, selling hand-made naughty knickers to every senior citizen in the five borough area!
Will Bridget be able to handle all the excitement? Will her Nana get arrested – or worse! – evicted?
Casting for the following roles:
SYLVIA CHARLES – In her early eighties, living like she's in her early twenties. The mastermind behind Saucy Slips, Etc., and the proud tenant of a rent controlled apartment. 
VERA WALTERS – Sylvia's aged accomplice: equipped with two hearing aids and a collapsible walker.
BRIDGET CHARLES – Sylvia's unsuspecting, 20-something, soon-to-be-law-student granddaughter.
TOM O'GRADY – The newest cop on the force, happily assigned the beat where Sylvia's apartment is.
GIL SCHMIDT – The landlord, overly eager to rid himself of his aged tenants. 60s.
HEATHER VAN PREE – Employee of Saucy Lips, looking for better opportunities, a modeling career, or just her boxes.
CLAIR – The big client. Mid 60s.
VOICE – The man at the front desk. Slightly bored and always sarcastic. Can double as one of the UPS men.
UPS MAN – Cute and a little lonely.
OTHER UPS MAN – The strong and silent type. For doubling purposes, this could be the same actor that plays Heather, Clair or Mr. Schmidt, as long as the audience doesn't recognize them as such.
All roles are non-paid.
Questions? 
Email Keith Eisenstadt at [email protected].
Nana's Naughty Knickers is being produced by special arrangement with Samuel French, Inc.
Image provided courtesy of Rainbow Dinner Theatre, Paradise, Pennsylvania.
https://carrollwoodcenter.org/wp-content/uploads/2018/01/Carrollwood-Logo.png
0
0
Rob
https://carrollwoodcenter.org/wp-content/uploads/2018/01/Carrollwood-Logo.png
Rob
2016-11-21 14:20:13
2018-02-27 14:14:10
AUDITIONS: NANA'S NAUGHTY KNICKERS